JUST LQQK (below) HOW FULL of SHIT Obama is !!!
As Obama SLAMS Russia & others for promotong VIOLENCE, while Obama's ARMING Al QAEDA (SEE THE ARTICLE BELOW FOR proof) !!!
Obama: "The United States makes no claim on territory there," Obama said. "But like every nation gathered here, we have an interest in upholding the basic principles of freedom of navigation and the free flow of commerce."
Despite the recent landmark agreement to curb Iran's nuclear program, Obama called out the country for continuing to employ "violent proxies to advance its interests" in the Middle East.
"These efforts may appear to give Iran leverage in disputes with neighbors, but they fuel sectarian conflict that endangers the entire region," Obama said.
"Iranian people have a proud history filled with extraordinary potential. But chanting 'Death to America' doesn't create jobs or make Iran more secure."
Obama also took time to acknowledge past U.S. mistakes in involvement in historical conflicts, pointing to both Iraq and Libya as lessons learned, while defending use of military action against ISIS. (by Obama ARMING them ???)
He then suggested an avenue of cooperation with Iran and Russia to bring peace to Syria, but only if the two countries support the removal of Assad from power. (So, Al Qaeda can establish a Caliphate - ALL OVER the MidEast - No Way, Obama !!!)
"To move forward in this era," Obama said, "you have to be strong enough to acknowledge that what you're doing is not working." (You mean like Obama's ARMING of Al Qaeda in Syria, Yemen & Libya !!!)
///////////////////////////////////////////////////////////////////
Confirmed: U.S.-Backed Syrian Rebels Surrendered Weapons to Al-Qaeda (another

$500 Million U.S. Tax Payer Dollars

'Squandered by Al Qaeda's 'New Leader' -

Barack Hussein Obama

!!!)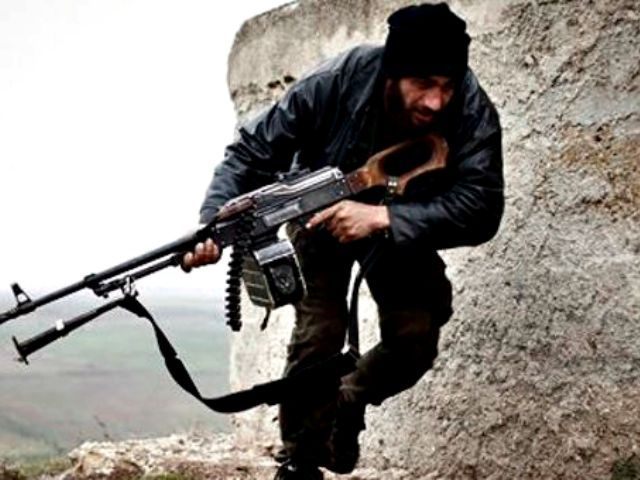 Another massive embarrassment for the Obama administration, as U.S. officials finally admitted on Friday—after days of strenuous denials—that the latest group of "moderate" New Syrian Force rebels surrendered at least some of their weapons and vehicles to al-Qaeda in exchange for "safe passage" into Syria.
"If accurate, the report of NSF members providing equipment to Al-Nusra Front is very concerning and a violation of Syria train and equip program guidelines," CNN quotes Col. Patrick Ryder of CENTCOM.
He was referring to reports from Syrian liaisons that the tiny force trained and equipped by the United States had given at least 25 percent of its gear to Jabhat al-Nusra, the al-Qaeda franchise that destroyed the first wave of NSF troops.
"Central Command originally denied that the equipment had made its way to the jihadist group. Al-Nusra tweeted a photo of a rifle issued by U.S. coalition forces this week, but Central Command had determined that the picture was fake," CNN reports. "But now the U.S. is learning from the rebels that six trucks and some of their ammunition was commandeered by Al-Nusra."
The now-inoperative denials were stern and unequivocal. "All coalition-issued weapons and equipment are under the positive control of New Syrian Force fighters," a Pentagon spokesman said on Wednesday.
"In light of this new information, we wanted to ensure the public was informed as quickly as possible about the facts as we know them at this time," Col. Ryder said on Friday, according to the L.A. Times. "We are using all means at our disposal to look into what exactly happened and determine the appropriate response."
There are even worse rumors coming out of Syria about the fate of the 71-man second wave of NSF recruits, including claims that the unit commander and at least some of his men have gone rogue or even defected to the Nusra Front. U.S. officials have denied these rumors as strongly as it denied that American weapons were given to al-Qaeda.
The hand-over of equipment to al-Nusra happened on Monday or Tuesday, while reports that the unit commander declared himself free of American control on his Facebook page began circulating Tuesday. The L.A. Times notes that on Friday, "the Pentagon would not disclose where the class of 71 was located."
///////////////////////////////////////////////////////////////
US-trained Division 30 rebels 'betray US and hand weapons over to al-Qaeda's affiliate in Syria'
Pentagon-trained rebels are reported to have betrayed US and handed weapons over to Jabhat al-Nusra immediately after entering Syria
Fighters with Division 30, the "moderate" rebel division favoured by the United States, surrendered to the al-Qaeda-affiliated Jabhat al-Nusra, a raft of sources claimed on Monday night.
A statement on Twitter by a man calling himself Abu Fahd al-Tunisi, a member of al-Qaeda's local affiliate Jabhat al-Nusra, read: "A strong slap for America... the new group from Division 30 that entered yesterday hands over all of its weapons to Jabhat al-Nusra after being granted safe passage.
"They handed over a very large amount of ammunition and medium weaponry and a number of pick-ups."
Abu Khattab al-Maqdisi, who also purports to be a Jabhat al-Nusra member, added that Division 30's commander, Anas Ibrahim Obaid,had explained to Jabhat al-Nusra's leaders that he had tricked the coalition because he needed weapons.
"He promised to issue a statement... repudiating Division 30, the coalition, and those who trained him," he tweeted. "And he also gave a large amount of weapons to Jabhat al-Nusra."
The Syrian Observatory for Human Rights (SOHR), a monitoring group, reported that seventy-five Division 30 fighters had crossed into Syria from Turkey early the day before with "12 four-wheel vehicles equipped with machine guns and ammunition".
US Central Command confirmed about 70 graduates of the Syria "train and equip" programme had re-entered Syria with their weapons and equipment and were operating as New Syrian Forces alongside Syrian Kurds, Sunni Arab and other anti-Isil forces.
The latest disaster, if true, will be the second to befall the programme. Last month, after the first group of fighters re-entered, the militia was attacked and routed by Jabhat al-Nusra, which stormed its headquarters and kidnapped a number of its members.
At the weekend, the group's chief of staff also resigned, saying the training programme was "not serious".
In the statement, Lieutenant Colonel Mohammad al-Dhaher complained of insufficient numbers of trainees and fighters, inadequate supplies, and even "a lack of accuracy and method in the selection of Division 30's cadres".
The latest developments have only added to the scorn heaped on the much-criticized $500 million (£320m) program, which aimed to forge a 5,400-strong force of "moderate" rebels to combat Isil.
It has been hampered by problems almost from the outset, with rebels complaining of a laborious vetting process. The biggest point of contention is that they are only allowed to fight Isil, not the Assad regime, which is the principal enemy for most opposition groups.
G
General Lloyd Austin told the Senate Armed Services Committee that only "four or five" US-trained rebels were still fighting the Islamic State Photo: AP
Last Wednesday, General Lloyd Austin, head of US Central Command, shocked leaders in the US Senate's armed services committee when he said there were only handful of programme graduates still fighting inside Syria. "We're talking four or five," he said.
//////////////////////////////////////////////////////////////////